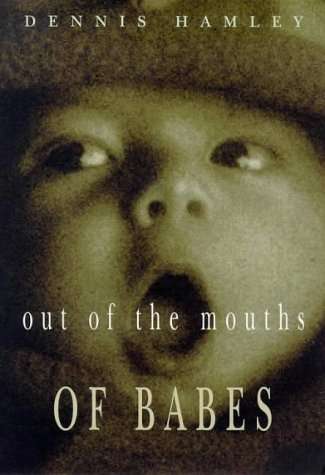 My blog: find out what progress I'm making with new books, and hear about my plans

Note to primary school teachers
Lately I've had a lot of emails from teachers who are looking for something I wrote called "The Enemy Airman." If you're looking for it, click here.

Special Offer !
While stocks last, the Joslin de Lay Mysteries, the Hare Trilogy and Out of the Mouths of Babes are sold as new, signed by the author and personally dedicated to the buyer if specified ! Click here for details

If you want to see want you can buy that is currently in print, there is an update to this section here. For links to buy books secondhand through Amazon Marketplace, see the complete works here.

You can purchase all my current books at Amazon, and you can even get the older ones from Amazon marketplace.

Now available from OUP
The paperback edition of Mystery Stories - click on the picture. From creepy school computers to bungling bank robbers; from lost villages to deadly Christmas presents :
News Archive

BRIGHT SEA, DARK GRAVES, my books set in the Napoleonic Wars which tell the story of a young midshipman, Edward Trefusis, will be published soon by Catnip Books. The first book is called THE GUNS OF ST THERESE, the second is THE NIGHTMARES OF INVASION. I'm just starting the third. I'll wait till nearer the time to say anything much about them. No cover pictures yet either.

The Joslin de lay Mysteries are now out of print, though we are hoping that another publisher will reissue them. However, HELL'S KITCHEN, the third in the series, will soon appear in Print on Demand. This book is set in medieval Oxford and is being brought back so that it can be included on a list of books on Oxford soon o be published
WATCH OVER HER, a ghost/horror story, is to be published by Evans in their Sharp Shades series
Divided Loyalties

DIVIDED LOYALTIES, the sequel to ELLEN'S PEOPLE, is published by Walker Books.

'Divided Loyalties is a magnificent achievement which should surely endure for years as an outstanding novel of the Second World War for young readers.' Linda Newbery / Armadillo

'This is a superior teen fiction from a master of the history for children genre.' Verbal Magazine / Belfast News Letter Group

It takes up the story where ELLEN'S PEOPLE left off. Ellen and Matthias are married. They have three children, Walter, Paul and Anna. They have left Lambsfield and now live in Peterspury, a village in Northamptonshire.

Soon, war clouds gather again. They hit Matthias worst. He lives in England now and from his vantage point sees how wrong the course Adolf Hitler is leading his countrymen is. But he is loyal to his family, who follow the new ideas. His nephew Helmut is in he Hitler Youth and he wonders whether if he still lived in Germany would he be any different.

Walter, their oldest child, hates his father. This hatred began in his early childhood: he has long forgotten its cause. He hates it that his father is German while he wants to be completely English. Paul is quieter and much happier. He has passed to go to the Grammar School. Anna, the youngest, thinks only of her music and already is playing the violin.

As war comes, Ellen's family is thrown into turmoil. There is much to happen, with turmoil and heartbreak, before the war is over and things begin to right themselves.

Here are two extracts which I hope may whet your appetites.

The first is when Walter is in the RAF. The Battle of Britain is raging. He is an engine mechanic servicing Rolls Royce Merlins and stationed at RAF Biggin Hill, Kent. He has just met Julie, a WAAF, and is desperate to know her better. On August 31st, 1940, the Luftwaffe launches a major raid on Biggin Hill.

Download extract 1 coming soon.

The second comes very near the end. The war has been over for nearly a year Anna is now a music student at the Royal College of Music. At Easter she comes home and goes to a concert in which Elgar's Cello Concerto will be played.

Download extract 2 coming soon.

You can buy DIVIDED LOYALTIES direct from Walker here or from Amazon here.

I've already started writing the third in the trilogy.

DIVIDED LOYALTIES was shortlisted for the Calderdale Book of the Year 2009

.
Ellen's People in America !

Ellen's People is now published in the USA by Candlewick, under the title Without Warning: Ellen's Story 1914-1918. Buy it here.

Read a new feature about the writing process for Ellen here.

Ellen's People
ELLEN'S PEOPLE is now published in the UK. Set in the First World War it tells the story of Ellen who, when the war starts in 1914 is a fifteen year-old girl living in a sleepy village in Sussex, perfectly content with life with her family. But terrible events which affect her personally make her change her mind: when the war ends four years later she has been on a long journey which has atken her far away from Lambsfield – and far away also from her early, innocent life.

Find out more about writing the novel here.

ELLEN'S PEOPLE was longlisted for the Leicester, Doncaster and Highland Book Prizes and shortlisted for the Hampshire Book Prize.
Here are two extracts to whet your appetites.
The first extract takes place in 1916, shortly before the Battle of the Somme. Ellen is now seventeen. Last year, at a dance in the big house where she worked as a servant, to which soldiers from the nearby camp who were shortly of to France, she met Archie from Yorkshire and they liked each other very much. Now Archie is on home leave before the big push and has invited Ellen to spend a day with him in London before he returns to the front. This will be her first visit to London with her first ever boyfriend. But her brother Jack is home from the war wounded and in a very bad state.
Download extract 1 here
The second extract is set in 1918. Ellen is a nurse in an army hospital in Abbeville, northern France, just behind the lines. On this night, something very important happens to her, important not only for the experience but for what it comes to mean for her.
Download extract 2 here
You can buy ELLEN'S PEOPLE here
Watch out for the sequel, DIVIDED LOYALTIES, which takes us to the end of the Second World War.

The Hare Trilogy

Hare's Choice, Badger's Fate, Hawk's Vision

NOW YOU CAN HAVE ALL THREE TOGETHER!

HARE'S CHOICE has been republished by Barn Owl Books. Click here to order.

At the same time, BADGER'S FATE and HAWK'S VISION are published by Back to Front as Print-on-Demand books. Further details here
To celebrate this news, you can read an article I wrote telling how I first thought of them, what went into their making and some idea of what they are about.
And you can read the reaction to the book when it first came out - to critical acclaim - here.

New story to download - Supermarket
Here's a new short story for download - it's called Supermarket and is suitable for 7 to 11 year olds. It was originally published in Dennis Pepper's "Oxord Book of Scary Tales". I think you will enjoy it, though it might put you off shoppingt !
By the way, in case you missed it, you can download a football short story here. It's called The Devil In Him.
To see the complete selection of exclusive free downloadable stories available click here.
You will need Adobe Reader to view the story - click on the logo to get the latest version.

Here's where you can find out more about Joslin's quest to find out about his murdered father. Read notes and extracts from all six books, plus find out where to buy them.
.

"This is a juicily macabre series of page turners." Jan Mark

| | |
| --- | --- |
| | As well as fiction, I have written many non-fiction books for children. Find out about them here.ction to the book when it first came out - to critical acclaim - here. |

Many of my earlier books are back in print via the Back-to-Front imprint of the Solidus Press. I have chosen some of my favourites to be rereleased by this new publisher. Here are some that you can read now :
| | |
| --- | --- |
| Two chilling ghost stories | The Great Football Treble |
| | |
| You can buy them by clicking on the titles : | All three books are now available. You can buy them by clicking on the titles : |

Out now
Watch Over Her
Old Mrs Cattermole is often visited by the mysterious children. When two thieves break in they find the children have a deadly surprise waiting.
The War and Freddy
". . . a wonderful, thought-provoking and above all, humorous book." School Librarian

Great news! THE WAR AND FREDDY is now reissued in the Happy Cat imprint of Catnip Books.

Here's the new cover :
THE WAR AND FREDDY is one of my favourite books. It was shortlisted for the Smarties Prize in 1991. Find out more about the book here. including a close-up of the new cover.

Very Far From Here
"...the period details of this excellent novel are marvellously convincing, reminiscent of the best of LP Hartley" The Daily Telegraph
Out now on Print-on-Demand from Back-to-Front
This was the second novel I wrote and it was first published in 1976. I've always had a soft spot for it. For the first time I wrote about the First World War, something I've returned to in three later books. Find out more about Very Far From Here here.

Pageants of Despair out now !
Pageants of Despair, my first novel, has been reissued by Paul Dry Books. Click here or on the cover to buy the book from Amazon UK, and click here to see the superb cover in full.

Yule Logs out now !
Click on the cover to order from Amazon UK
Christmas has always been and always will be a special time of year, a time either of great happiness or great sadness and sometimes both. Here are eight stories of different Christmases, all of which are memorable in their different ways.
The stories are arranged in order of age: the first for young children, the last for adults.
There are two World War 2 stories, one which refers to it and one which refers to another war. There's a football story, a ghost story and two stories with carols in them - and a lot more besides. There's a story about a really weird Christmas guest and another about a tumultuous family row. All ordinary Christmases to start with, but which turn into being anything but ordinary.
Each story has a postscript telling what real memory lies behind it and how it came to be written.