New entry - March 2007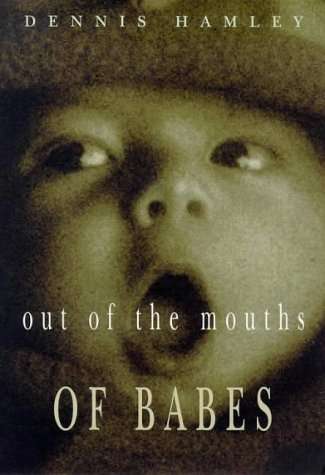 Find out what progress I'm making with new books, and hear about my plans
Special Offer !
While stocks last, the Joslin de Lay Mysteries, the Hare Trilogy and Out of the Mouths of Babes are sold as new, signed by the author and personally dedicated to the buyer if specified ! Click here for details

If you want to see want you can buy that is currently in print, there is an update to this section here. For links to buy books secondhand through Amazon Marketplace, see the complete works here.

You can purchase all my current books at Amazon, and you can even get the older ones from Amazon marketplace.

Now available from OUP
The paperback edition of Mystery Stories - click on the picture. From creepy school computers to bungling bank robbers; from lost villages to deadly Christmas presents :
Writing Ellen's People/Without Warning
For many years I wanted to write a novel about the First World War. I don't think there has ever been such a cataclysmic conflict over virtually nothing. But it marked the proper beginning of the twentieth century, just as the fall of the Berlin Wall in 1989 marked its real ending. It's always had a firm hold on my imagination – and I think that of most people in Great Britain and Europe, in a way which I don't think is quite the same for people in the USA, though I would be very happy indeed to be shown that I'm wrong. It first began to live for me through the poets – Wilfred Owen, Siegfried Sassoon, Isaac Rosenberg, Edward Thomas, then through the great memoir writers - Robert Graves in Goodbye to All That, Edmund Blunden in Undertones of War, Vera Brittain's Testament of Youth.
The works of scholarly historians followed, notably Barbara Tuchman with The Guns of August (later retitled, for some reason I can't comprehend, August 1914) and The Zimmermann Telegram. The books I note in the acknowledgments were read specifically for this novel.
Then I read the great novels – Remarque's All Quiet on the Western Front and then, in our generation, Sebastian Faulks's Birdsong and Pat Barker's Regeneration trilogy. These really cowed me: how could I possibly write anything to even approach their power and sense of actuality, especially as I was aiming for a young adult audience? I'd written a book set in 1914 already – Very Far From Here, about two boys in a south coast village thinking they've found spies. The war here is always present but seen at second or even third hand. Later, I wrote Billy Warren: the Diary of a World War 1 Soldier for schools and even a history of it for children. But none of them satisfied my ambition to write a long and serious story trying to capture that long-ago experience of so many people.
But the seeds for Ellen's Children/Without Warning had been planted many years before, though I didn't know it at the time. In 1981, when I was County English Adviser for Hertfordshire, the lady who ran the local Women's Royal Voluntary Service asked me if I would judge a writing competition for old people who received the Meals-on-Wheels service. I set the subject "Sweet Sixteen", so they could write about their experiences at that age. Many of them were in their 80s and so they were sixteen during the war. I received two accounts which stuck in my mind and wouldn't go away.
The first was from a woman who was taken by her boyfriend to the Watford Palace Theatre to see the last performance on stage of Charlie Chaplin before he left for America and films. He left for France next day and she never saw him again. I wondered how many thousands of times that happened and it brought home to me that the war led to the loss of almost a whole generation. Another told how she was a servant in a great house. The mistress of the house refused to let them have a dance for the soldiers, and so they went on strike.
When I read that, I realised that this was the beginning of the break-up of the English class system: after this nothing could ever be the same again. I went on thinking about them for years, knowing that one day I would use them, but it was many years before the character of Ellen swam into my mind and I knew these same things were going to happen to her.
War fascinates me. I hate and detest the very thought of it. Colonel Cripps's estimate of it – that it's cause by the vanity of those who don't have to fight it – is mine as well. Yet also I'm deeply interested in its technology and its tactics – I read a lot of military history. The greatest piece of luck in my life was to be born when I was, so that I didn't have to fight in any war (though when I was doing National Service in the RAF in the 50s there was a nasty rumour that we would all be sent to Suez, that ridiculous fiasco which illustrates Colonel Cripps's opinion perfectly.) At the same time I take great pride in the achievements of the British in two world wars – and not just the British but all allied forces - and also in the way that Germany and Japan conducted themselves after defeat. Humanity is seen at both its best and its worst in war. Issues seem straightforward and emotions run high, which makes war fertile ground for any novelist.
But it's not just the soldiers who experience the war. That's why Ellen seemed such a natural character to follow: a girl who learns who she is, who grows half a lifetime in four years and lives at a higher level that she otherwise would, always surveying and thinking on what happens to her, a girl who is made by and almost defined by the war. A reviewer said that Ellen had an "anachronistically modern" viewpoint. I dispute this strongly. She has a natural, questioning, reasoning intelligence: she is not afraid to act bravely though inwardly she is fearful. I found her growing under my hand into someone far more complex and satisfying than I had even contemplated when I started writing. I hope I don't sound foolish when I say that I was half in love with my own character by the time the book was finished.
DENNIS HAMLEY

Extract from Ellen's People/Without Warning
The first extract takes place in 1916, shortly before the Battle of the Somme. Ellen is now seventeen. Last year, at a dance in the big house where she worked as a servant, to which soldiers from the nearby camp who were shortly of to France, she met Archie from Yorkshire and they liked each other very much. Now Archie is on home leave before the big push and has invited Ellen to spend a day with him in London before he returns to the front. This will be her first visit to London with her first ever boyfriend. But her brother Jack is home from the war wounded and in a very bad state.
Download extract 1 here
The second extract is set in 1918. Ellen is a nurse in an army hospital in Abbeville, northern France, just behind the lines. On this night, something very important happens to her, important not only for the experience but for what it comes to mean for her.
Download extract 2 here
You can buy ELLEN'S PEOPLE here
Watch out next year for the sequel, ELLEN'S CHILDREN, which takes us to the end of the Second World War.

Watch out for Very Far From Here
Coming soon on Print-on-Demand from Back-to-Front
This was the second novel I wrote and it was first published in 1976. I've always had a soft spot for it. For the first time I wrote about the First World War, something I've returned to in three later books. Find out more about Very Far From Here here.

The War and Freddy out soon !
Great news! THE WAR AND FREDDY will be republished in September 2007 in the Happy Cat imprint of Catnip Books.
Here's the new cover :
THE WAR AND FREDDY is one of my favourite books. It was shortlisted for the Smarties Prize in 1991. Find out more about the book here. including a close-up of the new cover.

Pageants of Despair out now !
Pageants of Despair, my first novel, has been reissued by Paul Dry Books. Click here or on the cover to buy the book from Amazon UK, and click here to see the superb cover in full.